The Ocean County Youth Services Commission was established on September 15th, 1987 by the Board of Chosen Freeholders.
The Youth Services Commission is a group of community stakeholders appointed by the Board of Chosen Freeholders that oversees the planning and development of community based programs and services for at-risk youth and youth involved in the Family Court System. These programs and services are funded through State and Federal grant dollars. As part of the Juvenile Justice Reform Act in 1995, The New Jersey Administrative Code mandated Youth Services Commissions throughout the state.
The Ocean County Youth Services Commission does not directly provide services. However, the YSC competitively contracts with agencies to provide community based services for at-risk youth, and youth and families involved with the Family Court System. The YSC completes an extensive Plan and Application process for the State and Federal grant funds every three years for the Juvenile Justice Commission, and the programs and services provided are based on the needs of the youth and families in Ocean County.
Family Crisis Intervention
School Based Diversion Programs
Diversion Programs: workshops for Anger Management, Anti-Theft and Anti-Bullying
Outpatient Substance Abuse Services
Inpatient Substance Abuse Treatment
Intensive In-home Counseling
Mentoring
Home Detention / Electronic Monitoring
Parent Orientation Program: for new probationers

Social Enrichment Program for probationers
Ocean YSC Administrator is a Member of the following:
NJ Association of Youth Services Commission Administrators: Executive Committee – Treasurer
Juvenile Justice Delinquency Prevention Committee – YSC Liaison
County Council on Juvenile Justice Systems Improvement – Ocean County

Detention Alternative Case Processing Subcommittee
Probation Subcommittee
Innovations Subcommittee
Education Subcommittee

State Council on Juvenile Justice Systems Improvement – Education Justice Partnership Subcommittee
Ocean County Human Services Advisory Council – Vice Chair; Chair of Planning Committee
Ocean County Children's Inter Agency Coordinating Council – Chair of Membership Committee, member of Education Partnership Subcommittee
Ocean County Alliance Steering Subcommittee
DART Prevention Coalition of Ocean County – Executive Committee; Co-Chair of the Underage Drinking Work Group
Barnegat Township Communities That Care – general member; Public Relations Committee

Shelby Voorhees
Ocean County Youth Services Commission
Department of Juvenile Services
P.O. Box 2191, 165 Sunset Ave.
Toms River, NJ 08754-2191
Phone: 732.288.7656
Fax: 732.288.7635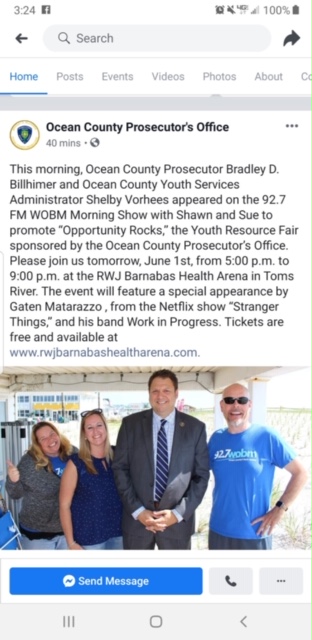 Meetings are held at 3 p.m. on the first Thursday of each month except as noted.* All meetings are currently being held virtually through Cisco Webex and are open to the public by clicking here.
Meetings subject to change or cancellation. Call 732-288-7656 for information or email Shelby Voorhees at [email protected]
2021 Virtual Meeting Schedule
January 7

February 4 
March 4
April 1
May 6
June 3
July 1
August 5
September 2
October 7
November 4
December 2 (NOON)
Mary Jo Buchanan
Ocean Partnership for Children, Executive Director
Jonathan Carman
Department of Juvenile Services, Social Services Coordinator, MDT Coordinator
Meghan Ahearn
Harbor House, FCIU Crisis Counselor
Kimberly Reilly
Ocean County Drug and Alcohol Coordinator
Ocean Mental Health – Youth Recovery Services
Officer Pat Scully
Harbor House Electronic Monitoring Program
The State of NJ Judiciary, Ocean Vicinage, Juvenile Supervision
Harbor House, Family Crisis Intervention Unit Services
Youth Advocate Program, Mentoring Services
The NASRO training was provided through 2018 JDAI Innovations Dollars to support our School Based Diversion Program. 27 Ocean County SRO's and members of the Ocean County Prosecutor's Officer were trained.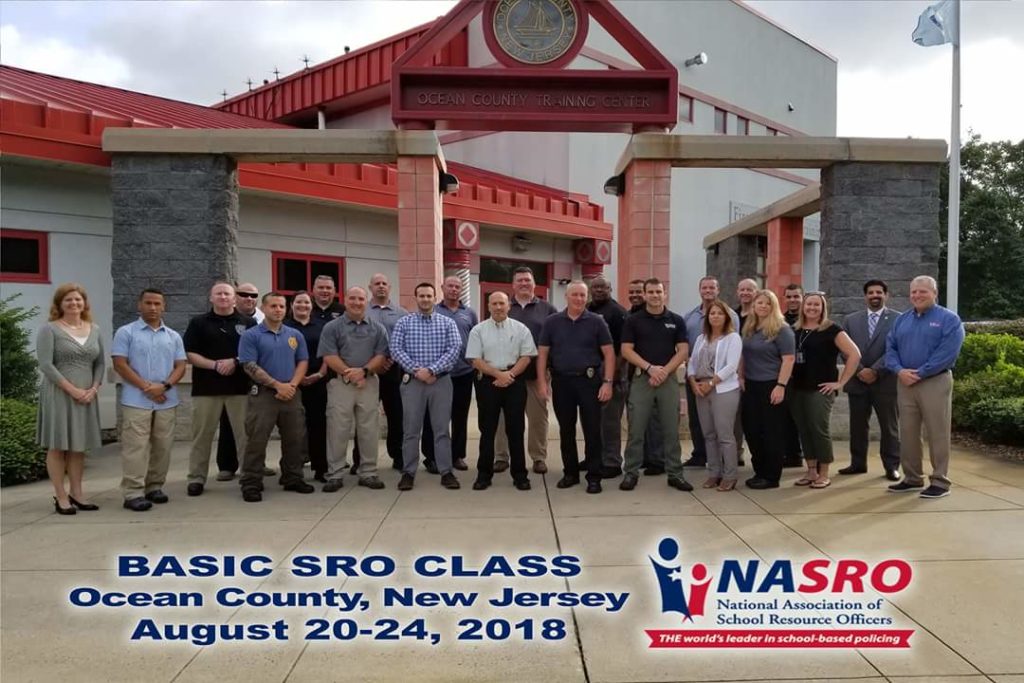 The National Association of School Resource Officers (NASRO) is dedicated to making schools and children safer by providing the highest quality training to school-based law enforcement officers.
NASRO, the world's leader in school-based policing, is a not-for-profit organization founded in 1991 for school-based law enforcement officers, school administrators and school security and/or safety professionals who work as partners to protect schools and their students, faculty and staff members.
NASRO developed the "triad" concept of school-based policing. It divides the school resource officer (SRO) responsibilities into three areas: teacher, informal counselor and law enforcement officer. By training law enforcement to educate, counsel and protect school communities, the men and women of NASRO continuously lead by example and promote a positive image of law enforcement to school children and school communities.
School-based policing is the fastest-growing area of law enforcement. With more than 3,000 NASRO members around the globe, NASRO takes great pride in being the first and most-recognized organization for law enforcement officers assigned to our school communities. NASRO is available to assist communities and schools districts around the world that desire safer schools and effective community partnerships in developing the most effective programs for their communities.
SRO programs across the globe are founded as collaborative efforts by police agencies, law enforcement officers, educators, students, parents and communities. The goal of NASRO and SRO programs is to provide safe learning environments, provide valuable resources to school staff members, foster a positive relationship with students and develop strategies to resolve problems that affect our youth with the goal of protecting all children, so they can reach their fullest potential.
A YSC member who has great attendance at regular YSC meetings throughout the year
A member who actively participates in YSC subcommittees and discussions
A member who goes above and beyond to support the work of the YSC
A provider who is timely with their billing requirements and paperwork
A provider who is present at YSC meetings and subcommittee meetings and discussions
A provider who goes above and beyond to not only support the work of the YSC, but supports the youth and families of our justice involved youth in Ocean County.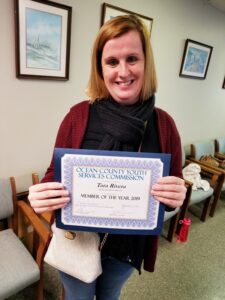 Tara Rivera
She is a parent, and an advocate for youth and a member of the Jackson Township School Board.
Yesterday, September 18, 2018, Attorney General Jeff Sessions and Justice Department leadership announced the recipients of the Second Annual Attorney General's Award for Distinguished Service in Policing, recognizing the exceptional work of 25 law enforcement officers and deputies from 12 jurisdictions across the country.
The Attorney General's Award recognizes individual state, local, and tribal sworn rank-and-file police officers and deputies for exceptional efforts in policing. The awarded officers and deputies have demonstrated active engagement with the community in one of three areas: criminal investigations, field operations or innovations in community policing. The Department received 207 nominations for 469 individuals ranging from state police departments, to local police, to campus public safety agencies. This award highlights the work that officers and deputies do to prevent, intervene in, and respond to crime and public safety issues. Among them, was Sergeant Sean Crotty of the Little Egg Harbor Police Department, New Jersey.
Sergeant Sean Crotty is the school resource officer at the local high school. His main responsibility is the protection of the school community. However, he also takes on the arguably greater role of getting involved with students, shaping the way they view law enforcement, and helping mold them into productive community members. While Sergeant Crotty's "beat" is the high school, this does not limit him to creating relationships with the younger students in the community. In his years with the department, Sergeant Crotty started a Junior Police Academy for middle school students, enhanced free Police Athletic League (PAL) programs, and added a Junior Police Explorers program. Press Release.